So hello friends and welcome back to our page and today we'll learn some more details upon WordPress.
Among tons of services and fans of WordPress across the globe, this one has been one of the most popular engines all.
So today's our significant attention and will be based upon version control, and if you are a beginner or still planning to learn before you begin, then you just hit the very right spot buddy.
Today here we'll be discussing upon the two version control techniques for anyone to quickly learn them as unless try you'll never get it smooth.
So let's start with the topic, what's version control.
It might be familiar to many beginners out there.
For developers, the version is more like managing several codes.
But now, several plugins have made this once-complicated concept available to regular WordPress users.
Today, whether you're a developer or a regular WordPress user, now with the help of this WordPress version control, you are now able to track changes to your site and keep your data safe.
So today we'll be talking in 2 versions of WordPress version control.
Revisr version control
Version press
1) Revisr version control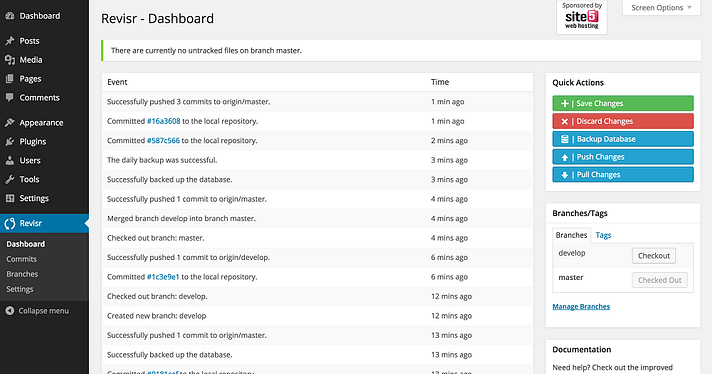 So hello guys, here we got info and updates upon of the viral and very similar and friendly version control to GIT.
So those who have used GIT earlier are going to find it very easy and straightforward to use as this one very similar to it.
So let's start the details, with the intro to Revisr for those who haven't tried or heard of it earlier.
It's a WordPress version control plugin that lets you handle your WordPress files and database directly from your WordPress dashboard.
To thoroughly understand the plugin, you should probably go through the basics of Git first.
So learning the use of this to make it user-friendly might take you to earn some good experience but to start with this is a good deal for the beginners as the hard way is still the better one.
Note While using Revisr. Upon creating a Git repository in your root directory, Revisr automatically creates a git list that contains all the information about your catalogue and its changes.
You have to be very sure this directory is not accessible on your site, as a potential attacker can gain unhindered access to your project in that case.
Next, we'll be looking at a more comfortable to try and beginner-friendly WordPress version control, not like that typical Git-based one.
2) Version press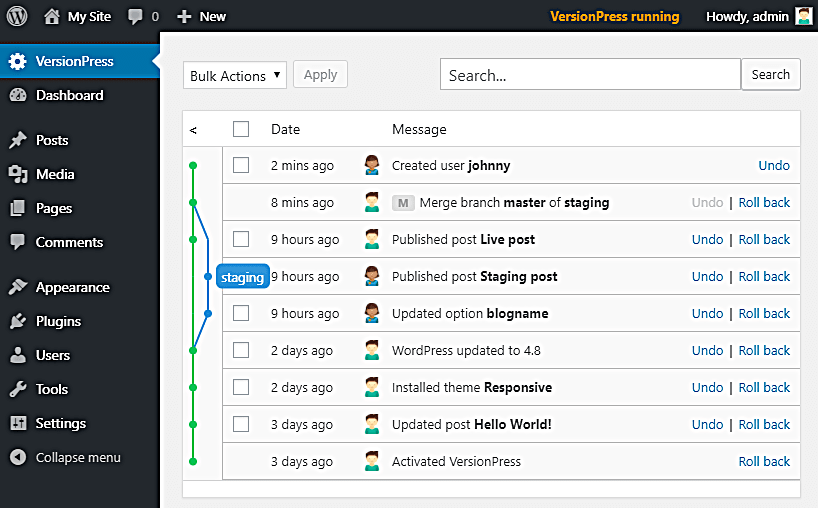 So beginners let me have your attention, please!
This one is one of the easiest to try or to learn for any beginner out there, unlike what Revisr works as it's straightforward to understand and learn.
Times when Git or Revisr can do tons of kinds of stuff but creates vast complications for any beginners to understand and learn to use,
The creator of version press analysed the issue and created the version press to make the work easier and very comfortable for every beginner out there such that it's accessible for everyone to learn the use in a less complicated way.
VersionPress is capable of tracking down every change in WordPress like version control tracks, which changes to files in a repository.
No, were similar to that what Revisr works as it does not require you to make commits but automatically does so after every change.
Let's take an example, so when you are about to create a post or install a plugin, VersionPress tracks it.
For every sort of changes such as addition or removal of terms etc., that it documents, VersionPress allows you to either undo an action without affecting other activities or roll back to the stage before you performed the action
Conclusion :
More overlooking at the outcome for the WordPress version control, I'll like to recall what it means, so it's a task managing centre thing for a word press based site.
Which also said that it'd be able to help you track the work and updates done over.
Looking comparatively here,the Revisr seems to be a quite less beginner-friendly and while looking at the specs it's too much good to try out the fun, but on the other hand not everyone is very familiar and easy to get comfortable to work with a lot of effort,
So the best is to try the version press control with its ability to check over any actions and undo it and other simple steps to learn this one is the winner for any beginner.
Hello, I've been a creative designer and writer since 2015. I've also been lucky enough to work for the many reputed companies where I manage the Designs and Content.